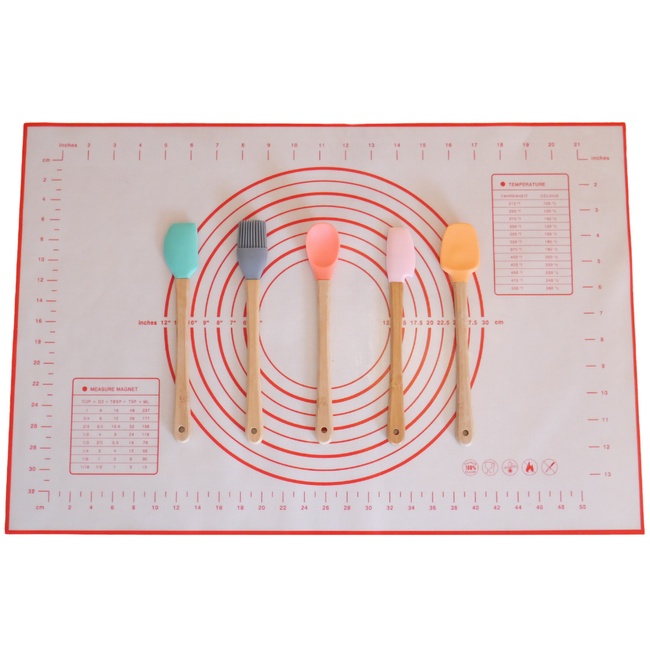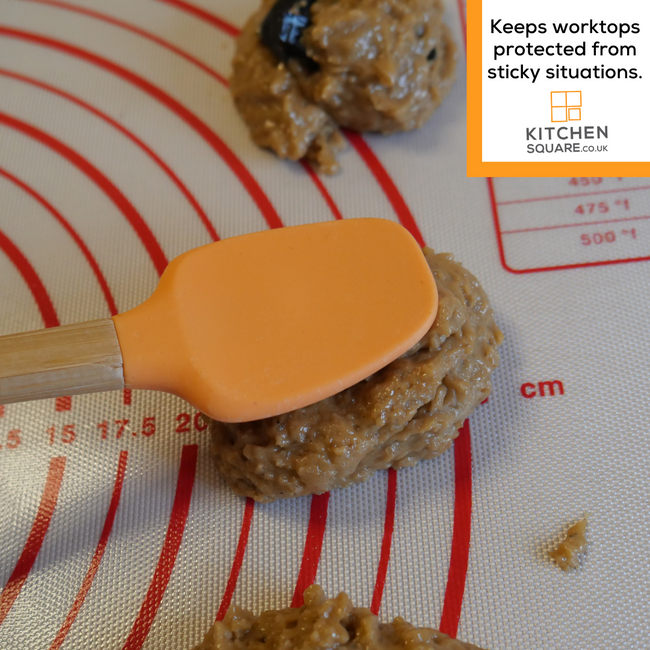 Detachable interchangeable multi-coloured utensil heads. 

Ecofriendly bamboo handles.

Safe and healthy food-grade silicone

Heat, odor, scratch-resistant heads.

Easy to store.

Dishwasher safe detachable silicone heads and rolling mat

Bamboo handles are NOT dishwasher safe

Rolling mat heat resistant from -40°c to 230°c.

Conversion tables & measuring guides.

Non-slip & non-stick coating. 

Great for kids.
These super cute mini kitchen tools are made of high-quality food-grade silicone, which will not release unpleasant plasticky odors and harmful substances during cooking.
The flexible silicone heads are suitable for turning, stirring, scraping, and folding without scratching non-stick-coated cookware and baking trays. 
Designed with multi-coloured non-stick silicone heads and ergonomic natural bamboo handles, not only do they look fantastic they're also durable and easy to hold when preparing your favorite food. No sharp metal edges or splintery wooden tips.
The FDA-approved silicone used to create the rolling mat and utensil heads can withstand high temperatures up to 230°c and will not melt, warp, discolor or release any toxic substances during cooking. 

All the silicone tips pop off so the grooves can be easily cleaned, the tips may be put in the dishwasher whilst the Bamboo handles must be washed by hand. 
Keep them all together with the provided clip ring or string them up through the holes at the end of the handle. 
With each utensil, children can learn a new cookery skill, ideal for letting them get creative. All are is small and light, helping them get involved in cooking, baking, mixing, stirring, or decoration, encouraging them to learn about food.  
A must for any baker is a good quality non-slip rolling mat to guide you through kneading and rolling out the best doughs, whilst keeping as much mess as possible off the worktops.  Use this mat for anything from everyday baking to pies, pizzas, macarons, and icing.
Food grade silicone provides a non-stick non-slip surface that can cling to any kitchen surface and is still easy to peel off and pop in the dishwasher.
A great treat for any birthday, wedding, housewarming, Christmas, or well-done gift
6 Piece Silicone Family Baking Set Includes:
Mini Scoop Spatula.

Mini basting brush/pastry brush.

Mini Half Spreader.

Mini Spoon.

Mini Pointed Spatula.

1 Red & White Silicone rolling mat.

Safe Payment
All payments are secured
Free Shipping
For all orders over £35
Online Support
To answer all your product questions.