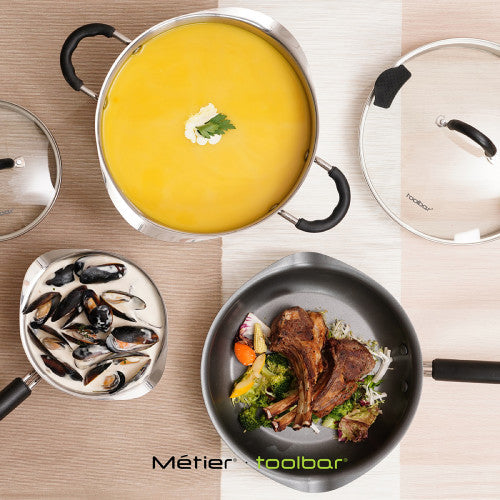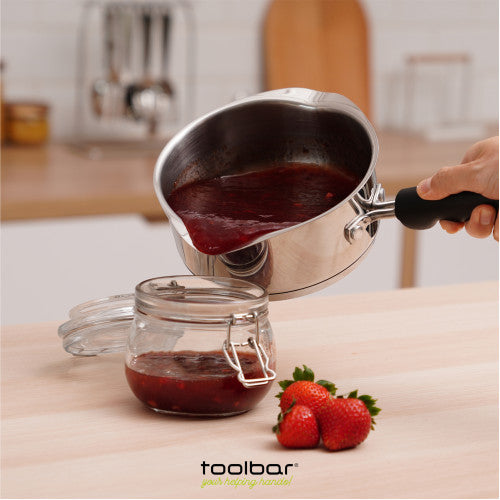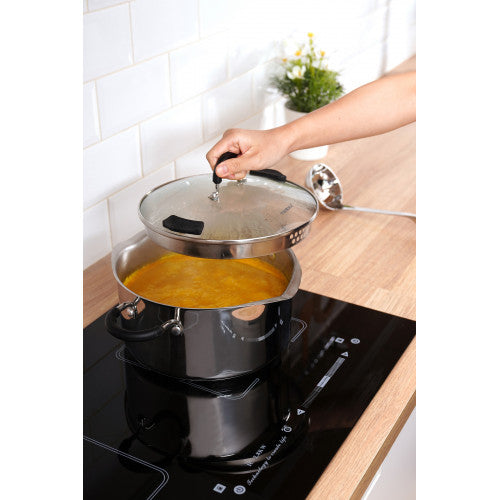 - Two wide triangle spouts on two sides for easy and drip-free pouring
- Two sets of different sized holes built into the lid rim for draining food and liquid
- Encapsulated base ensures quick efficient, even heat distribution, and retains heat well.
- Ergonomic heat resistant bakelite handle pads provide a comfortable and non-slip grip.
- Unique heat resistant thumb pads protect from hot lids when straining.
- Induction Ready - Suitable for various heat sources including gas, vitroceramic, electric, etc.
- PFOA-free non-stick coating with an outstanding performance makes cooking and cleaning the SPOUT frying pan easy.
- Dishwasher Safe - Ovenproof up to 150°c
SPOUT cookware includes multiple clever features to make home cooking a more pleasurable experience. 
Prominent curved SPOUT's direct the flow of liquid to reduce splashing and spills while you drain. These pouring lips eliminate mess, by stopping sauces from running down the sides of your pans onto your cooktops. 
 With a spout on each side, these pans are ideal for both left and right-handed users. Grooved ergonomic bakelite handles remain comfortable to hold, and cool to touch when used on the hob. 
Separating food from liquids is easy and convenient with two sizes of straining holes built-in into the rim of the lids. No need to reach for a colander and dirty extra cookware, this 2 in 1 cookware will save unnecessary cupboard clutter and washing up. 
Designed to make straining pasta and potatoes more pleasurable heat resistant silicone grips on the lid protect fingers from heat when pouring hot liquids.
The Non-stick frying pan cooks beautifully on a high-performance Whitford Eclipse PFOA-free non-toxic coating. Steak is finished perfectly, topping with a simple pan sauce poured exactly where you want it to be.
A robust riveted construction secures a strong connection between the handle and the pan, guaranteed to keep the pan together for a lifetime. In the encapsulated base are sandwiched aluminium between stainless steel to ensure even heat distribution with no hotspots. Retaining heat in the base the pan cooks efficiently..
SPOUT Cookware is induction ready; suitable for hob types including electric, gas, vitroceramic. 
Kitchen Square recommends non-metallic utensils to prolong the life of all cookware, protecting from scratches.
Remember, Always be careful when handling hot cookware!
Included Items:
 - SPOUT Casserole 5.3 L :  ø24 x 12.5 cm 
Product Code: K0220 - Major Material(s):  18/10 Stainless Steel, Aluminium Encapsulated Bottom, Bakelite, Silicone and Tempered Glass
- SPOUT Frying Pan:   ø24 x 6 cm
Product Code: K0223 - Major Material(s):  18/10 Stainless Steel, Aluminium Encapsulated Bottom and Bakelite
 - SPOUT  Saucepan 1.9L: Size: ø18 x 8cm Capacity:  1.9 L
Product Code: K0219 - Major Material(s):  18/10 Stainless Steel, Aluminium Encapsulated Bottom, Bakelite and Tempered Glass

Safe Payment
All payments are secured
Free Shipping
For all orders over £35
Online Support
To answer all your product questions.